Berislava Blagojevića sam otkrila zahvaljujući ovom blogu. Nekako se mi, vlasnici blogova, slučajno pronađemo, vidimo zanimljiv tekst pa ga lajkujemo, zatim zapratimo blog i od tog trenutka smo jedni drugima na radaru. Tako sam saznala za njegovu novu zbirku priča "Monument". Iako nisam čitala njegove prethodne knjige, ovu sam želela da pročitam sada i odmah jer umeju recenzije ponekad to da izazovu u čitaocu.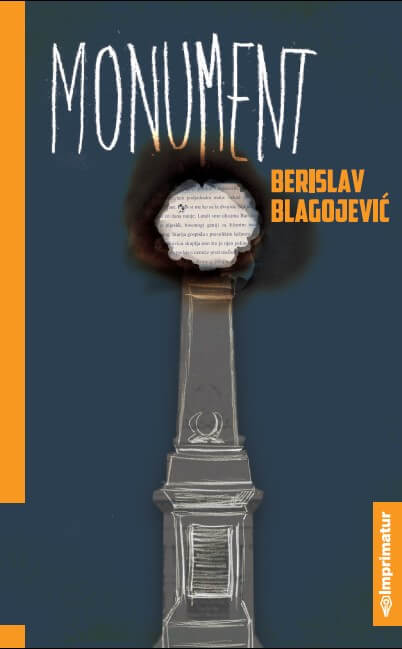 I dobro sam prepoznala da će mi se svideti. Priče su nepretenciozne – a zašto sada koristim tu reč na prvom mestu, a ne maštovite, zagonetne, poetične, zanimljive? Jer one su sve to. Na prvom mestu ističem nepretenciozne, jer me sve više nervira marketing u izdavaštvu, pravljenje selebritija od pisaca, te tako sada sa svih strana primam vesti o jednim te istim književnim zvezdama sa ovih prostora, a retko naletim na vest o pravim piscima poput Blagojevića, koji svoje fino književno tkanje obavljaju suptilno, bez pompe. Možda i grešim. Ali ove fine priče, male po obimu a monumentalnih poruka i značenja, jesu nepretenciozne jer nenametljivo i pametno grade u čitaocu nezaboravne slike i pozivaju ga da se pita u kakvom to svetu živimo i koje su te najvažnije vrednosti koje ne smemo da zaboravimo.
Maštovite, poetične, zagonetne
Najviše mi se svidela piščeva razigranost u vezi sa pripovednim formama – tu su priče u kojima fusnote (debele poput oblaka?) pokušavaju da izguraju glavni tekst, priče pričane u prvom, drugom i trećem licu, one u kojima su isprepletani san i java, sadašnjost i prošlost, i one koje se završavaju zagonetkom. Imala sam utisak da se Blagojević super provodio otkrivajući putanju priče i pronalazeći motive koji će spajati različite događaje, a rezultat je da je i čitalac uveden u priču kao u neki muzej kurioziteta.
Iako su mi sve priče lepe, posebno bih istakla Vikend sa grofom Marsiljijem, Preživjeli, Ergastulum, Park mog brata, Paratetis u nozdrvama, i Pogled. Neke od njih zbog poetičnih rečenica i divnih slika, posebno u priči Vikend sa grofom Marsiljijem gde je cela priča ispričana u jednoj skladnoj, ritmičnoj rečenici ("…ali umjesto da nastavi sa čitanjem, on se zagleda u broj 33 u donjem desnom uglu, te poče da misli o simbolici tog broja i tada se prisjeti trideset i tri Hristova čuda i pomisli kako ga samo čudo može izbaviti iz ove muke u koju je zapao i tada iznenada dunu neki jak vjetar od kojeg se zavjesa pored radnog stola nadula kao glavno jedro na jedrenjaku, a stranice knjige preletješe zdesna nalijevo i zaustaviše se na fusnoti u kojoj piše da je grof Marsilji…"), a neke od njih su mi se podvukle pod kožu zbog jezivosti situacija i strašnih sudbina koje su prikazane bez nepotrebnih sentimentalnosti, a samo kroz živopisne slike. Recimo, Ergastulum govori o jezivim jamama pod zemljom u kojima su živeli robovi u starom Rimu, i paralelno prikazuje život današnjeg čoveka koji jednako robuje modernim slobodama i živi kao pacov. A u priči Pogled Blagojević uspeva da podstakne prisećanje na davno zaboravljen pojam prave ljubavi i uznemiri (ovog) čitaoca idejom o svetu bez tog važnog elementa.
Prethodni prikaz (o Tesi od D'Urbervila) sam završila pitanjem zašto se uopšte vraćam savremenoj književnosti kada od nje ne dobijam ono što kao po pravilu dobijem od bilo kog proverenog (šta god to značilo) klasika… A sada imam i odgovor na to pitanje.